Used Boats:
7
Adverts Displaying:
1
-
7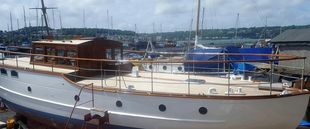 A classic 'Gentleman's Yacht', Shuna was built in 1935 by Hugh McLean & Sons at Govan in Glasgow. At that time she was the subject of much interest in the Yachting press and was featured at length in an article in the magazine The Motor Boat. Built of pitch pine on oak frames she is nearing the end of a comprehensive re-build at a boat yard in North Wales, and is now near completion. Renovation includes new teak decks with a widened and refurbished wheelhouse. The original engines have been replaced, and in 2005 twin 90 hp Beta diesels with a Beta genera...
read more
Year:
1935
Length:
14.60m
Location:
Gwynedd UK
Price:
£135,000 Tax Exempt

View Details
This classic boat in Burmese teak is a Yachting World 5 Tonner. In 1945, Yachting World magazine commissioned Mr Robert Clarke to design a small auxiliary cruiser to be known as The Yachting world 5 tonner. This beautiful example, Janina, is Bermudan Sloop rigged with tan sails and a genuine period classic look. She was built in Bombay in 1946 by the Ammedi ship yard, to Robert Clarke's design, using double diagonal Burmese Teak planking on teak frames. The result is a vessel with immense strength and durability on a long keel hull. In a 2005 survey the surveyor stated that &quo...
read more
Year:
1946
Length:
7.44m
Location:
Cumbria UK
Price:
£4,995 Tax Exempt

View Details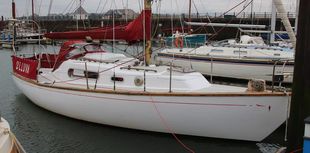 REDUCED Designed by Van de Stadt, this version of the Legend was built in 1969 by Tyler Boats at Tonbridge in 1969. The original engine was replaced with a Perkins 18hp 3 cylinder engine in 2002. The hull has been copper coated. This is a well presented yacht, well priced and ready to go. The owners have bought a larger vessel hence the reason for the sale....
read more
Year:
1969
Length:
8.83m
Location:
Gwynedd UK
Price:
£6,500 Tax Exempt

View Details
El Manana was built in 1957 as a gentleman's yacht. Following an extended period of rebuilding and renovation she is now offered for sale. Bought by the present owner in 2011 she has been extensively refitted. She has new bespoke cabin furniture in sapele, a new galley, and a new forward electric toilet. The hull is larch planks on oak frames. Previously painted white the hull has recently been varnished. The decks have been repaired and replaced and are now laid in iroko. The wheelhouse has been repaired and refurbished. A 60hp Beta Marine engine has been installed with le...
read more
Year:
1957
Length:
11.58m
Location:
West Dunbartonshire UK
Price:
£29,995 Tax Exempt

View Details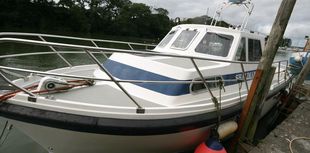 NOW REDUCED. This Aquastar 33 is a heavy displacement motor cruiser. She is an Aquastar 33 built in 1992 to the present owner's specification by BWS marine in Gwent. She has been cruised widely in the Irish Sea and across to and around the Irish coast. Now out of the water, she can be fully inspected. Powered by twin Ford 120 hp diesels driving two ZF gearboxes this motor cruiser delivers both power and comfort in all sea conditions. Access to the twin engine compartment is made easy with a powered access hatch in the aft deck. The wide spacious after deck has ample room for sea...
read more
Year:
1992
Length:
33'
Location:
Gwynedd UK
Price:
£49,995 Tax Paid

View Details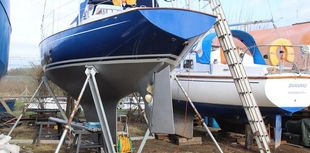 The Contessa 32 is a 9.75 metre (32 ft) fibreglass monohull sailing yacht, designed in 1970 by David Sadler. Over 750 hulls were built. The Contessa 32 is one of the most successful cruiser racers of the last 30 years. With her long fin keel and skeg-mounted rudder, she's a solid sea-boat that will see you through all seasons of offshore sailing. The Contessa 32 also performs well in races, and as a one-design racing class is administered by an active owner's association. 'Viking' is a beautiful looking boat. Her hull number is 390. She has just had a complete refit ...
read more
Year:
1979
Length:
9.75m
Location:
Merseyside UK
Price:
£24,950 Tax Exempt

View Details
This stunning example of the boat builder's craft was built by Peter Matheson of Clydeside Traditional Boat Builders as a way of passing on his skills to volunteers and apprentices. Peter Matheson is widely known and respected as a builder of traditional wooden boats, and Girl Pat is a fine example. Our photographs show the quality of the workmanship. She is based on the Beer Luggers of Devon but is more substantially built. Clinker built, the planking is 3/4 inch thick well seasoned larch. The deck is 1 inch thick top grade Oregon pine. Rather than steamed frames she has fitted f...
read more
Year:
2019
Length:
5.48m
Location:
West Dunbartonshire UK
Price:
£12,000 Tax Paid

View Details